White And Gold or Platinum Pendant Necklace From Collection Beans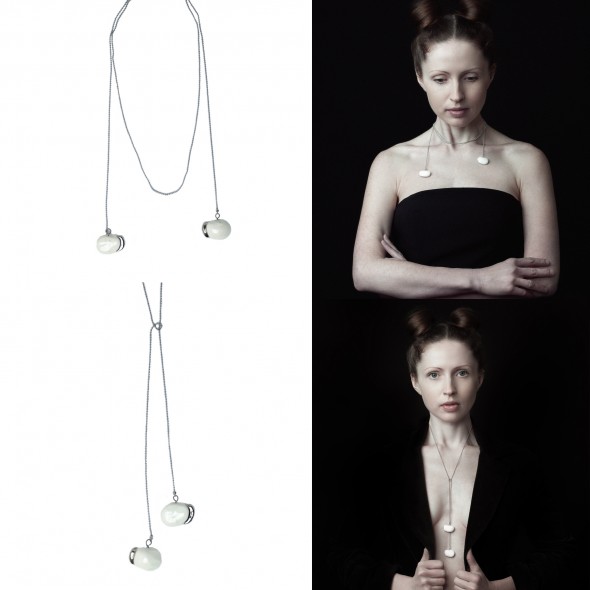 Necklace with pendants from collection Beans. White beans are handmade of porcelain, with golden or platinum plated sprouts.
The chain does not have a clasp or fastener. You can wear it the way you want, let your imagination run free. See pictures for some suggested ways of wearing. Minimalist and clean design that fits any style of clothing.

white porcelain

transparent glaze

gold or platinum lustre




stainless steel chain

pendant size

3x1,5 cm

chain length 90 cm

comes with a linen bag
Tale about the Beans collection:
There once lived grandpa and grandma. They had nothing apart from their one and only daughter. Once the two of them found a bean. – Let's plant it and let it grow, - said grandpa. – When it grows, it will be our daughter's dowry. The bean shot of out the earth and started to grow. It grew not by days, but by hours. After a while it twined around the daughter's neck. As it twined, it matured and grew bean pods. The daughter turned into a beautiful maiden and a dazzling bride.
| | |
| --- | --- |
| Materials | White porcelain, transparent glaze, gold or platinum lustre, Non-allergenic Stainless Steel chain. |
| Size | Necklace size 3x4 cm, chain length 90 cm. |
If you love this product and want to keep it with you as long as possible, then:
store it in a dry place (do not keep it in a bathroom), because explosure to moisture can tarnish silver parts and adhesive can lose its strength;
do not rub gold or platinum parts, because the layer of metal can gradually fade or wear away;
do not use perfume when wearing jewellery – perfume contains solvents that can damage the gold details;
we believe that you might want to sleep wearing your new jewellery, but we do not recommend it, because we are not sure if your glamour will be transferred to your dreams. In other words, earrings can break and pendant chains can get twisted.
If despite all the love and care your new jewellery or its part breaks, then please contact
us and we hope that we can nurse it back to life.