Green Ring Decorated Platinum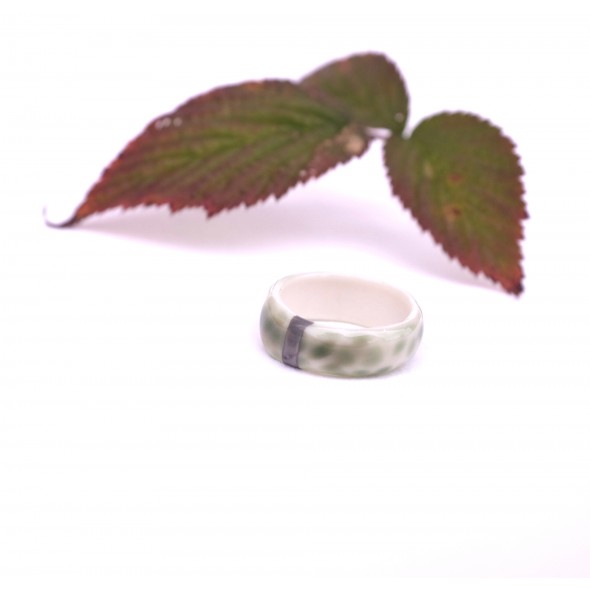 The handmade light green porcelain ring is plated with platinum decor. Rings are light, easy to wear daily, able to be worn with anything.
porcelain

glaze

platinum lustre plated

ring hight 0.5 - 1 cm

comes with a gift box
- If you don't find your size of the ring, please ask.

| | |
| --- | --- |
| Materials | Black porcelain, glaze, platinum lustre plated. |
| Size | H 0.5 - 1 cm |
If you fell in love with this ring at first sight and want to keep it with you as long as
possible, then:
however happy you are do not clap with all of the enthusiasm you have – it can hit another one of your favourite rings and then, most probably, you will have one ring less. The action of "high five" is also not recommended. If you participate in a sports event or activity, we also recommend not wearing your ring;
do not rub gold or platinum parts, because the layer of metal can gradually fade or wear away. It is possible that with constant wear it can fade, this is normal Unfortunately, it is impossible to apply a thicker layer of gold or platinum, because it burns off when fired at high temperature;
during bath or shower time you might not feel the ring slip off your finger, so we recommend that you do not bathe or shower it;
we believe that you might want to sleep wearing your new jewellery, but we do not recommend it, because you might break or lose it.
There are people, who completely ignore these instructions and wear their rings for a
long time. Simply, it's a question of luck.